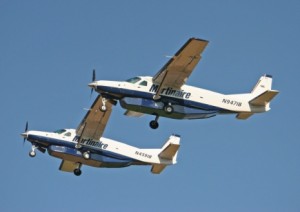 Martinaire is a growing Dallas, Texas based FAR Part 135 air cargo carrier with over 30 years of experience. We're known for our excellent service, reliability, and professionalism.
We understand the logistical challenges our customers experience on a daily basis, and we strive to provide you with the best solution to get your package to its destination safely and on time.
Founded in 1978, Martinaire has extensive experience in providing a variety of air freight services to suit your needs. We offer both scheduled and on-demand charter service at competitive prices.
Our fleet consists of 30 Cessna 208B Super Cargomaster, and we operate daily scheduled service to more than 60 cities across the United States.
We also offer aircraft maintenance services, parts sales, and (AOG) Aircraft on Ground solutions. If you don't see the aircraft or service you need on our website, just ask us, and we'll work with you to provide the best solution for your needs.
Contact Us to receive your price quote today. Send us an email, give us a call, fill out the quote request form on our homepage, or live chat with our team 24 hours a day, 7 days a week.